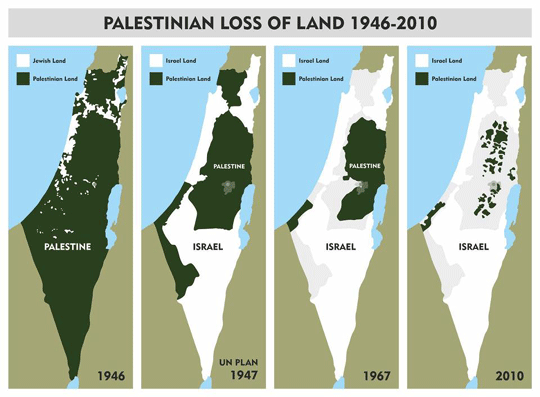 By Cristina Millán
In 1948, the newly-formed United Nations (UN) drafted a solution to the simmering conflict in the region that would partition the land of historical Palestine into two states, one Jewish and one Arab, on 55 and 45 percent of the land respectively. The Palestinian community and wider Arab World rejected the plan and the War of 1948 ensued.
This war lasted only ten months, but Israel captured a total of 78 percent of historical Palestine, 23 percent more than what had been apportioned to the Jewish State and no second state was formed in the remainder of the Palestinian territory. Instead, the Gaza Strip was put under the transitional rule of Egypt and the West Bank under Jordan. Moreover, during the War of 1948, over 750,000 Palestinians were forced to flee their homes, creating what is now the world's largest refugee population.
In 1956, Egypt blockaded the Gulf of Aqaba and assumed national control of the Suez Canal. France and the United Kingdom, along with Israel, invaded Egypt in response. Moreover, in this period, Israel invaded the Egyptian Mandated Gaza Strip.
In 1967, a new war started where, in only six days, Israel captured and occupied the West Bank, including East Jerusalem, the Gaza Strip, the Syrian Golan Heights and the Egyptian Sinai Peninsula. In the West Bank and Gaza, the Jordanian and Egyptian administrators were replaced by Israeli military rulers in the form of the Israeli Civil Administration (ICA). East Jerusalem and the surrounding areas were illegally colonized by the State of Israel, by establishing the beginning of the permanent occupation of the remaining 22 percent of historical Palestine.
As result of all these years of conflicts and occupation, nowadays there are 2 Palestinian territories divided, separated and occupied, West Bank and Gaza Strip and the largest population of refugees and displaced people all over the world. Actually, there are Palestinian refugees and, in general immigrants, living in every continent and lots of countries but, especially in Jordan, Lebanon and Syria where lots of them live in refugee camps. Additionally, there are also refugees living in camps in West Bank and Gaza (in fact, most of the population in Gaza are refugees) and there are internal displaced Palestinians who had to leave their houses due to the Israeli occupation and now live in a different city both in Palestine and Israel.
In summary, regardless Palestinian living outside the region (I will explain about refugees, maybe in another post), the Arabic population in Palestine is divided depending on their location. There are Palestinians in Israel: they have an Israeli passport and are considered Israeli citizens but with Arabic identity. So, and the end, they don't have exactly the same duties and rights as Israeli citizens with an Israeli identity.
There are Palestinians in Jerusalem with a special Jerusalemite ID. Due to the fact that Jerusalem is illegally occupied by Israel, they have to live as they lived in Israel with all the Israeli structure, government, language and laws but they are not Israeli citizens. In fact, for the international community, East Jerusalem is part of West Bank, what means Jordan; therefore, if they want to go abroad, they need to ask for a Jordanian passport.
Furthermore, Palestinian in Jerusalem live in the own neighborhoods with almost no mixing with Jewish people and they suffer discrimination because they live in a city governed by Israel but they are not Israeli citizens, so they can't vote in national elections or they are usually forgotten by the Town Hall regarding to municipal services such as water, electricity or rubbish collecting.
There are Palestinians living in West Bank, the international recognized region of Palestine mandated by the Palestinian Authority. Due to Israeli occupation, they are not allowed to go to Jerusalem or any other place inside Israel, except if they ask for a special permission. Furthermore, if they want to go abroad, they need to ask for a Jordanian passport and, as well a Palestinian one since Palestinian Authority exists.
And finally, there are Palestinians living in Gaza who have almost no direct relation with any other Palestinians or the rest of the world. If they want to go abroad, the 'easier way' for them is to ask for an Egyptian passport; they can also ask for a Palestinian one, but it usually lasts longer because the process depends on the Israeli authorities. As Palestinians in West Bank, neither Jerusalem nor West Bank are forbidden for them.
Due to all these movement restrictions, relationships and connections between Palestinians in different regions are really difficult. So, there are Palestinians in West Bank who haven't seen some relatives or friends for ages because they in Jerusalem or Gaza and vice versa. Even more, most of the youngsters living in West Bank have never seen `their part of Mediterranean Sea' or Jerusalem.
Due to the restrictive and chaotic situation is really difficult to imagine how the State of Palestine could exist, with two regions without connection, relatives who don't know each other, refugees living everywhere, Palestinians living in the State of Israel or East Jerusalem occupied and managed by an Israeli government.
https://alianzaporlasolidaridad.org/voluntariado/wp-content/uploads/2013/03/map-palestine-israel.gif
397
540
voluntari@
https://alianzaporlasolidaridad.org/voluntariado/wp-content/uploads/2022/08/logotipo_alianza_solidaridad2.png
voluntari@
2013-03-03 15:15:20
2013-03-03 15:27:19
PALESTINIANS